We must warn you… this is a bit of a fish tale.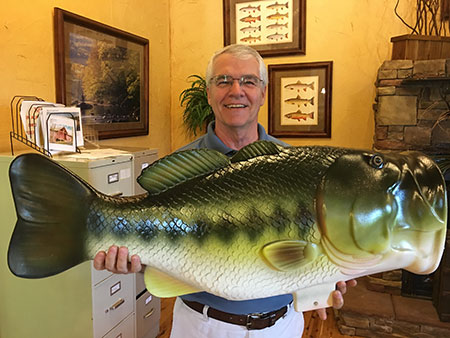 The photo on the right is Ross Summers, Managing Partner for Trophy Run, holding up what has to be the BIGGEST FISH ever captured at our resort in Branson, Missouri. Captured in a photo, that is.
Lake Taneycomo is famous for it's massive, trophy-sized lunker trout that are caught here on a regular basis. In fact, the Missouri State Record Brown Trout was landed just downstream of our "Fish Tales" Sales Center.
Just across the highway from our Welcome Center, Table Rock Lake, is home to huge bass and many other species of fish.
What makes this fish so special? Here are a few clues…
If you look closely you'll notice this fish is ready for mounting.
It's not a female, but it is a mail fish.
This fish came to us "special delivery" from our friends at Bass Pro Shops!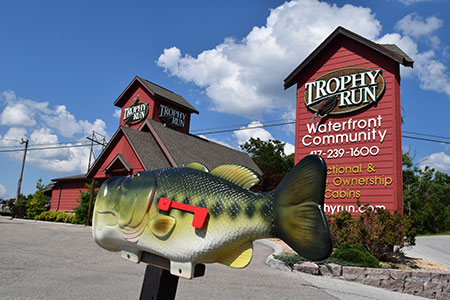 Yes, this fish is actually our brand new MAILBOX which is proudly mounted in front of our Trophy Run Welcome Center!
Every day he'll be eating his weight in cabin reservation requests, customer reviews, utility invoices and perhaps a postal delivery person or two!
Would you like to feed our new fish?  Drop us a line at:
Trophy Run Resort
117 Trophy Run Rd.
Branson, MO 65616