World-Class Fishing in Branson
Branson, Missouri offers some of the finest fishing opportunities in the Ozarks. No matter what type of freshwater fish you fancy, we can make your angling dreams come true on your next Branson vacation.
Lake Taneycomo Fishing: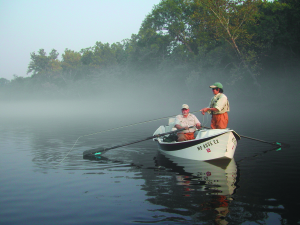 Lake Taneycomo is 22 miles of terrific trout fishing.  Both rainbow and brown trout thrive here due to the lake's clear, cold water.  Taneycomo is fed by water that comes from depths of about 200 feet from Table Rock Lake, which means that the water in Taneycomo stays pretty chilly and oxygen rich, perfect for trout.  Shepherd of the Hills Fish Hatchery, operated by the Missouri Department of Conservation, is located just upstream from Trophy Run.  About 700,000 trout are stocked into Lake Taneycomo each year, so a bad day of fishing on this lake is rare.
Trophy Run can help with any questions you may have about rules, restrictions and recommended lures and baits.  If you'd like to have a professional on your team , Trophy Run has expert fishing guides who will guarantee you a great time on the lake.
Table Rock Lake Fishing:
With nearly 800 miles of shoreline, Table Rock Lake has a lot of nooks and crannies where feisty fish feel right at home.  Table Rock Lake is known for largemouth bass, smallmouth bass, Kentucky bass, spotted bass, crappie, bluegill, catfish, walleye and even paddlefish.  Many anglers enjoy fishing from the shore for bluegill and smallmouth bass, but if you're after the big ones then a boat is the only way to go.  All you need is a Missouri fishing license and a rigged fishing pole and you're ready to fish Table Rock Lake.  However, the favorite lures and bait can change from day to day depending on weather patterns, water temperature and seasons.
If it all seems a little daunting, don't worry, Trophy Run can also set you up with professional fishing guides for Table Rock Lake who can help take all the guess work out of this fantastic sport.   All you have to worry about is reeling them in!
Expert Fishing Guides
Trophy Run has aligned itself with the premiere fishing guide services in the Branson area. Whether you want to reel in a big bass, a trophy trout, or just get to know the area lakes – we have the right fishing guide for you.
Check out our guided fishing vacation package for more information.