Which recent Trophy Run guest is having a birthday today?
Folks from all walks of life are enjoying the beautiful Adirondack style lake cabins at Trophy Run resort in Branson, Missouri. One of our recent residents should be very familiar to many who read this article.
Actor Muse Watson, celebrates his 67th birthday today, just after spending a relaxing vacation with family and friends here at Trophy Run Resort in Branson, Missouri.
Many people recognize Muse from his portrayal of Special Agent-in-Charge Mike Franks on the popular CBS television series NCIS. He was first introduced as the mentor and partner to Supervisory Special Agent Leroy Jethro Gibbs, portrayed by Mark Harmon. Referring to Gibbs as "Probie", Franks was the source of many of Gibbs mannerisms, including the trademark DiNozzo head slap.
Happy Birthday @MuseWatson – Congrats on returning to @NCIS_CBS this Fall. Your friends @TrophyRun @BransonCabins . pic.twitter.com/QPYY1G3ZA9

— Trophy Run – Branson (@TrophyRun) July 20, 2015
Of course, Muse's acting resume extend's far beyond NCIS. Since 1989 he's been featured in over 55 films and over 30 television series and movies including Prison Break, Saturday Night Live, The Mentalist, Criminal Minds, Austin Powers, and Walker – Texas Ranger to name a few.
[fontawesome icon="film" circle="no" size="medium" iconcolor="#dd9933″ circlecolor="" circlebordercolor="" animation_type="0″ animation_direction="down" animation_speed="0.1″]Watch Muse Watson's Acting Reel and see how many of his tv and film roles you recognize.
Muse was so impressed with the Trophy Run resort property, that he invited us to hang out with his family and friends in their beautiful, two bedroom Serendipity model cabin on a recent mid-July afternoon.
One of the most beautiful things about being at Trophy Run, is just how relaxed and comfortable you feel being here.

There's no pressure, there's no deadlines… it's just you, and the Ozarks.

– Muse Watson
Muse and his family were particularly impressed with the craftsmanship and quality of the waterfront cabin, including the rustic, interior furnishings. They loved the privacy and peacefulness of vacationing amongst nature, instead of a busy hotel or condominium.
When we first walked into this cabin, I thought to myself…

it's so nice to be in a place that's so wonderfully designed; so creatively outfitted.

It's gorgeous; and it's beautiful… and it fits.

– Muse Watson
It's no coincidence that Muse selected Branson, Missouri as a preferred vacation getaway for he and his family.  When the live stage production of the award-winning film "A Christmas Snow" appeared at the Starlite Theatre in 2011 and 2012, Muse reprised his co-starring role and fell in love with the beauty of the Ozark mountains, as well as the amazing variety of quality entertainment.
During his first season in Branson, Muse befriended Ross Summers who at the time was the President and CEO of the Branson Lakes Area Chamber of Commerce. Ross is a principal developer of Trophy Run, and he enjoyed a relaxing reunion with his multi-talented actor friend.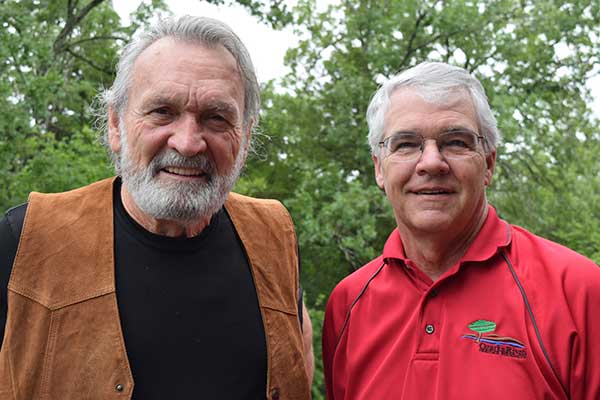 When asked why he is so attracted to the Branson area as a vacation destination for his family, Muse summed it up in three words… "No Better Place!"
He then added, "If you love being outdoors with beautiful views, there's no place better than the Ozarks and Branson. If you love country music… no better place. If you love to laugh, and comedy… no better place. There is no better place to come and just relax and be in an environment like Trophy Run… where it's all comfortable. And then if you want to go to town and see an exciting show, you're only minutes away."
I'm thinking I'd love to catch me one of those big fish. I might just have to do that this afternoon.

Hey, I don't care if you're looking for fishing, family music, or just enjoying the wonderful design of a beautiful cabin, Trophy Run is the place.
– Muse Watson
Happy Birthday Muse! Thank you for selecting Trophy Run as your special vacation week "home away from home". We look forward to welcoming you back again soon.
Visit MuseWatson.com for more information on his career.