SEASONS GREETINGS TO ALL TROPHY RUN OWNERS!
As 2014 winds down, everyone here at Trophy Run wants to wish all our owners, both old and new, the very Merriest of Christmases and a Happy New Year. Branson always presents one of America's most joyous Christmas celebrations and this year seems to be even bigger and brighter than ever. If you've never been to Ozark Mountain Christmas then start planning now to join us for next year!
[separator top="40″ bottom="40″ style="shadow"]
[one_fourth last="no"]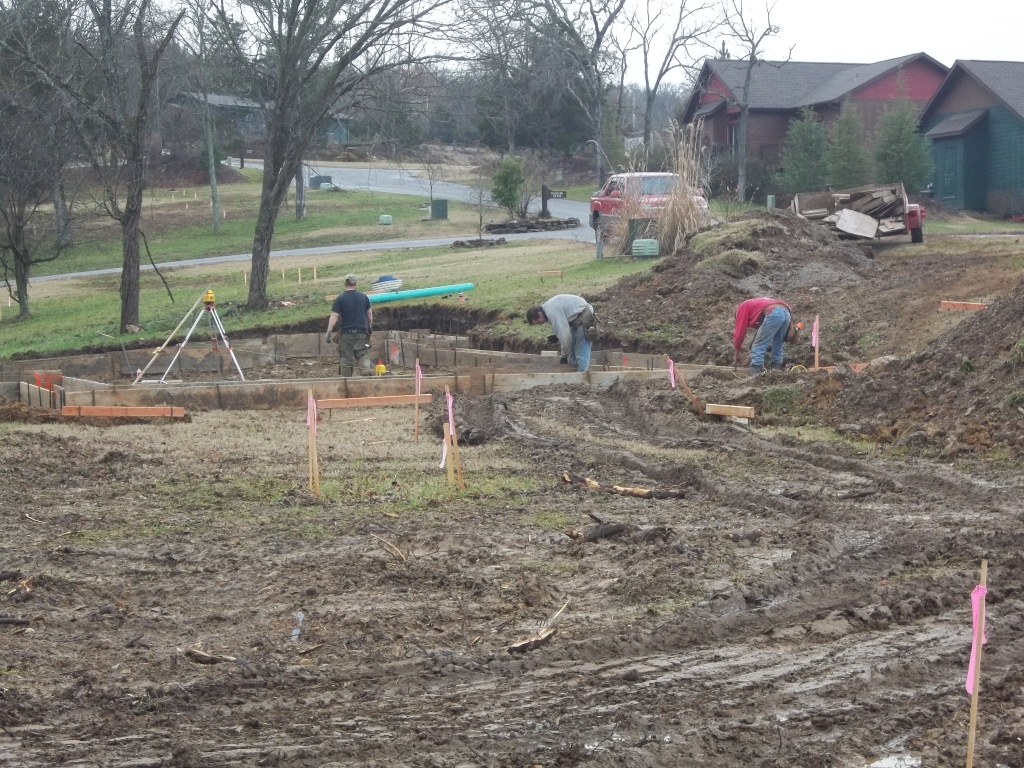 [/one_fourth]
[three_fourth last="yes"]
New Construction!
It's been a wonderful year here at Trophy Run with many new owners and two new cabins which opened in April. Plus just this week we broke ground on two additional cabins which will be ready for Springtime occupancy. These new cabins will continue the tradition of quality construction, first-class interiors and cozy, comfortable furnishings.
[/three_fourth]
[separator top="20″ bottom="40″ style="single"]
Coming back to Branson in 2015?
If you haven't already, you will soon be getting an update letter from RoseMary, our Owner Services Coordinator. She'll be asking for your reservation plans for 2015 and have information regarding your deeded week. If you have additional questions about your week just call RoseMary at 1-417-243-0725. Remember that you can always bank your time through Interval International for use at any of Interval's thousands of world-wide destinations. This benefit of time-share ownership makes it easy for you to enjoy family vacations practically anywhere, anytime.
To bank your time with Interval, just call 1-800-828-8200, or for information you can go to their website at www.intervalworld.com.
[separator top="40″ bottom="40″ style="single"]
Partnership With State Park Marina
If your plans bring you back to Trophy Run for next summer, remember to schedule some family time enjoying the beautiful clear waters of Table Rock Lake.  Trophy Run is right across the highway from State Park Marina, the best and most fully-equipped marina on Table Rock, and as a Trophy Run owner you are eligible for discounts on boat rentals, scuba gear and more.  State Park Marina has everything you need to make it a memorable day on the water! Due to the popularity of run-abouts, pontoon boats and wave-runners, we encourage you to get your reservations in early. Call Kim at our concierge desk to find out how you can take advantage of this ownership benefit.  For more information about services and offerings, go to www.stateparkmarina.com.
[separator top="40″ bottom="40″ style="single"]
[one_fourth last="no"]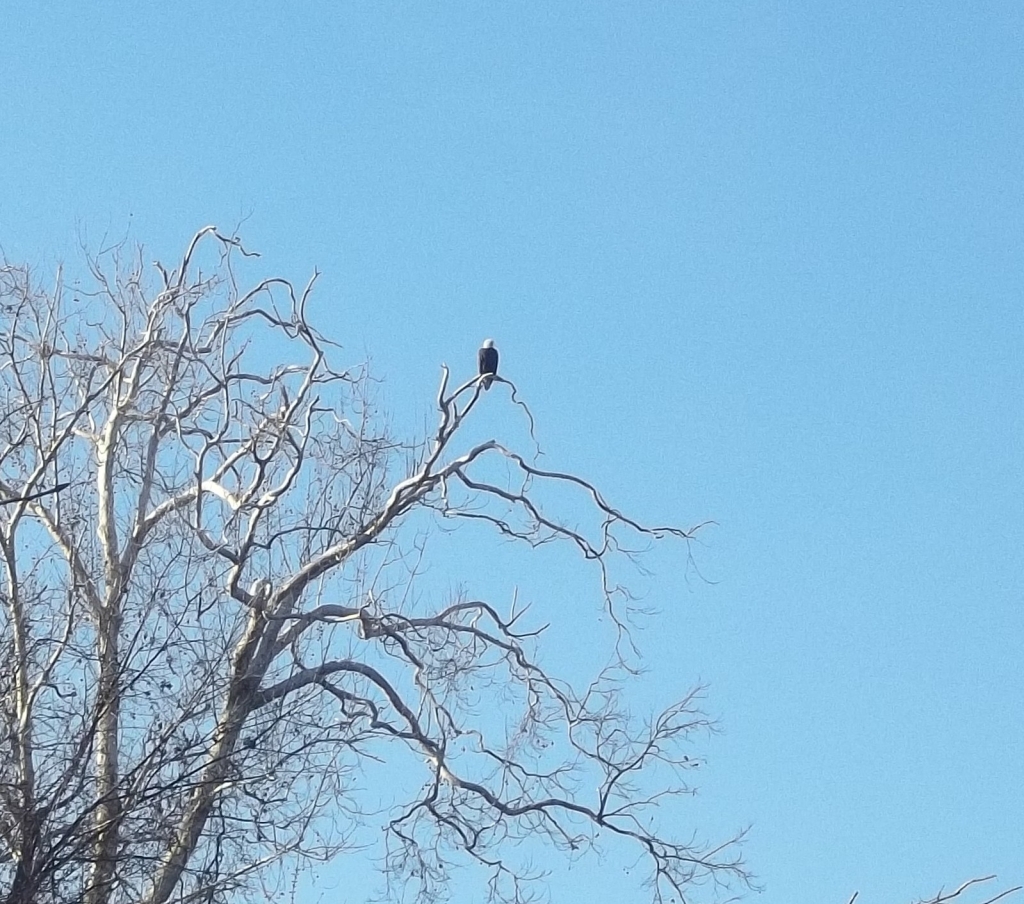 [/one_fourth]
[three_fourth last="yes"]
Bald Eagles are back for their winter feeding!
Here's a beautiful sight.
He's a little hard to see, but this majestic bald eagle was fishing at the water's edge at Trophy Run last week.  Eagles, hawks and herons are a common sight along our shore, plus deer sightings have been frequent this fall.  We are blessed to have many forms of wildlife living on or around Trophy Run.
[/three_fourth]
[separator top="20″ bottom="40″ style="single"]
[one_fourth last="no"]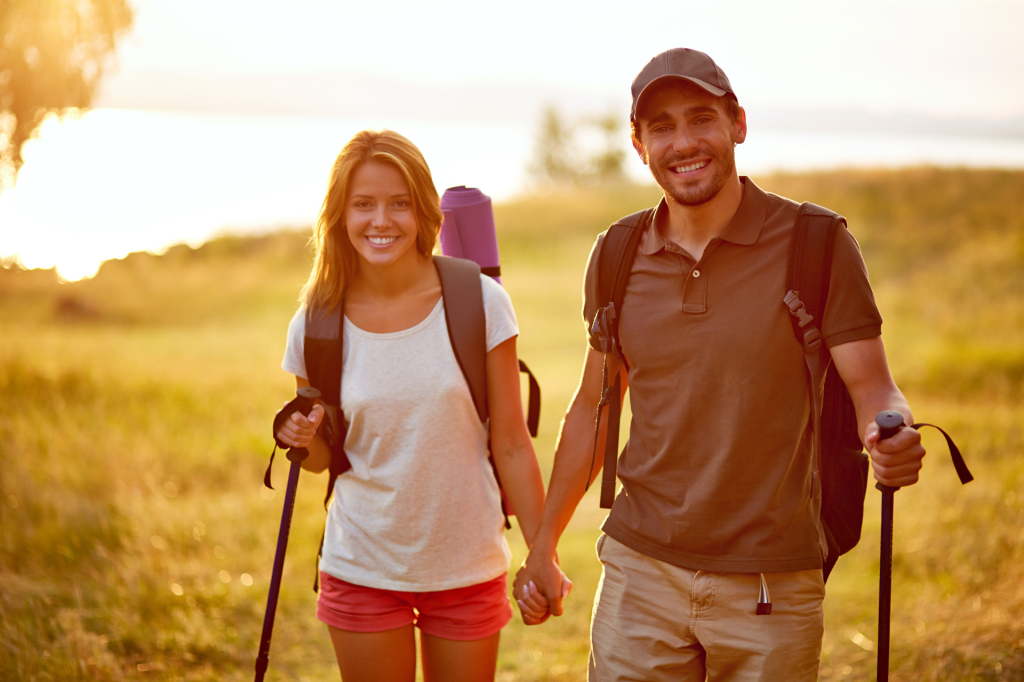 [/one_fourth]
[three_fourth last="yes"]
A perfect place for hiking & biking
When you come back to Trophy Run don't forget that right out your  front  door is one of the best hiking/biking trails in the Midwest.  The  White  River Valley Trail  System  (https://trophyrun.com/branson/trails/) is over  11 miles  of rugged beauty that can  be enjoyed by  foot or by  mountain  bike.  Built  and maintained by the  Missouri  Department of  Conservation  in cooperation with the  U.S. Corps  of  Engineers, these  natural trails can  be enjoyed in stages or all at one time.  The trails are natural Ozarks  dirt  and rocks so hiking boots are  recommended.  There is a trail head to the entire system on Trophy Run property.
For those who want a smoother walk or place to run, The Table Rock Lakeshore Trail is less than a mile away and carries you on a 2.2 mile route between the State Park Marina and the Dewey Short Visitor Center at Table Rock Dam.  This paved linear trail hugs the shoreline of Table Rock Lake and is perfect for families with bikes or strollers or for those who simply want a great way to experience the scenic beauty of the Ozarks up close.  It is relatively flat and is great for an early morning walk or run.
All of these trails are free and open year-round.  Some sections may be closed during seasonal hunting periods.
[/three_fourth]
[separator top="20″ bottom="40″ style="single"]
Servicing Company
Trophy Run contracts with Equiant Financial Services to process all Trophy Run HOA fees and mortgage payments. If you would like information on your current HOA or mortgage status, including current balance and payoff amounts, you can access your personal account by contacting Equiant at 1-800-447-1760, by email at info@equiant.com or on their website at http://my.equiant.com. Be sure and have your account number handy for easy access. You can also contact them via USPS at: 5401 N. Prima Road, Suite, 150, Scottsdale, AZ 85250.
Please view our Equiant Account Management page for more info on how to access your account.
[separator top="40″ bottom="40″ style="single"]
Phone System Upgrades
We will be upgrading our phone system here at Trophy Run in January, and while we don't anticipate any issues, if you do have trouble reaching us just send an email to ownerservices@trophyrun.com.
[separator top="40″ bottom="40″ style="single"]
Owner Referrals!
Remember, you can save on your annual HOA dues by sending us names of people you know who would also enjoy owning at Trophy Run.  For information on our owner referral program call 855-902-0535.
[separator top="40″ bottom="40″ style="single"]
Branson in 2015
As always, there will be plenty of excitement for the 2015 season in Branson. Beginning in April with World Fest at Silver Dollar City and See the World in Branson festival that will kick off our Spring season, accompanied by the beautiful backdrop of Redbuds, Dogwoods, Forsythia and other blossoms you'll find all over Ozark Mountain Country. All of our world-famous live entertainment shows will be open by April and ready to make you smile, laugh and sing right along with our talented performers.
The Summer will find families from across the country enjoying our pristine lakes, nationally famous attractions, and great shopping! Roller coasters, go-carts, kayaking and canoeing, hiking, biking, golf and more with keep all members of the family active and eager to come back for more.
Autumn in the Ozarks is a special time of year, when the mountains take on a special color and the pace slows down just a bit. The shows are in full swing and the crisp Fall mornings blend with the mist rising from Lake Taneycomo. My favorite time of year.
Branson's 'Fifth Season' – Ozark Mountain Christmas, kicks off on November 1st and lasts through the end of December. One of the grandest celebrations of the season anywhere in America, Christmas in Branson is not to be missed, with millions of lights, extravagant stage productions featuring the best in Christmas music, hundreds of outlet and specialty shops, parades and good old-fashioned Ozark hospitality.
Whatever the season, we hope you'll be able to make Branson and Trophy Run part of your annual vacation plans, whether with family or friends we know you'll be glad you did.
[separator top="40″ bottom="40″ style="single"]
Important Trophy Run numbers!
[one_fourth last="no"]
Main Office:
Concierge Services:
Owner Services:
Sales:
[/one_fourth]
[three_fourth last="yes"]
417-243-0723
417-243-0725 (Owner discounts for shows and attractions.)
855-587-6749 (Reserve your deeded time or general questions.)
417-243-0725 (Upgrade to additional space or weeks.)
[/three_fourth]