Walking and Biking Trails In Branson, Missouri
Did you know the lakeside cabin homes at Trophy Run sit in the middle of one of the finest walking and biking trail systems in the entire Midwest?
The White River Valley Trail System hugs Trophy Run on the west and northern boundaries, and we even have a trail head system entrance right on Trophy Run property! This secluded Branson hiking trail system has over eleven miles of marked trails, broken up into four sections, giving you the option of hiking all or a portion at a time.
Tip: the trail is carved out of rugged Ozarks hills so you can expect rocks, dirt, and significant elevation changes, so hiking boots and a good walking stick are recommended.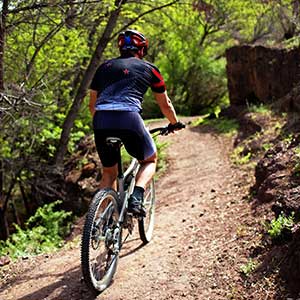 If mountain biking is your thing, then the White River Valley Trail System is just for you! The system is popular with bikers and has actually been the host site for several regional mountain biking competitions.
If a smoother and less challenging hike is to your liking, then just across the road from Trophy Run you can enjoy the Table Rock Lakeshore Trail. This 2.2 mile paved linear trail hugs the shoreline of Table Rock Lake, offering beautiful vistas and a tree-shaded path.
The Lakeshore Trail is perfect for a leisurely walk, strollers or kids on bikes.
There are three points of entry: the east side entrance at State Park Marina, the west side entrance at the Dewey Short Center at Table Rock Dam, and near the middle of the trail, the State Conservation Office and Pavilion.
There are several other hiking trails in the Branson Area, including the Henning Trail on Hwy 76 just east of Shepherd of the Hills Homestead, offering glades and gentle slopes, and the Branson Lakeshore Trail on Fall Creek Road just off Hwy 76, featuring a rugged climb along the steep cliffs above Lake Taneycomo.
Whatever your hiking or biking speed, Branson offers some of the finest hiking and biking trails in the Midwest.
Maps of the White River Valley System or Table Rock Lakeshore Trail are available free of charge at the Trophy Run Owner Services desk.